Cheer up with the cozy winters! Hey fed up of the heat stoves giving extra CO2 and worsening the weather condition. Just buy US Stove 5660 Bay Pellet front stove, that is extraordinarily adorable for interior usage and highly advanced in its functionality.
The US Stove 5660 Bay Pellet front stove stands out for being a clean and economical heating medium. The air model is ecological and efficient since it distributes the heat throughout the room in which it is located. Its fuel is pellets, a renewable material, with a high calorific value and low CO2 emissions.
It has automatic control, so it is very comfortable and easy to use. Its installation requires a smoke outlet and plug. It is recommended to start the smoke evacuation installation with a T with register to facilitate cleaning. Merely a best ecologically beneficial product ever.
US Stove 5660 Bay Pellet Stove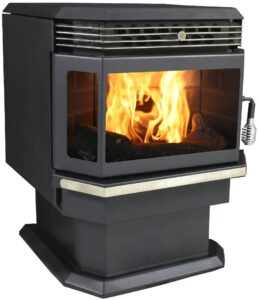 Basics:
Brand: US Stove
Dimensions: 26.25 x 24.25 x 30.5 inches
Weight: 270 pounds
Colour: black
120 CFM Automatic Blower
Material: steel
LED display
Digital control board
Six heat settings
Area of application: interior
Fuel option: pellets
Hopper capacity: 55 lbs
Spend less time filling and maintaining your stove and more time cosied up to its warming comfort for up to 96 hours of burning time with most immense hopper capacity. You'll love how easy and intuitive the controls are, along with the automatic ignition, making this a simple and affordable heat source.
Lets print details! 
Tremendous power: Powerful heater with up to 48,000 BTU. Easy-to-use range controls include automatic ignition and intuitive dial thermostat for easy, comfortable heating. Digital control board allows easy, one adjustment.
Highly advanced system: Up to 2,200 square feet of heated space due to high BTU and large capacity hopper provides the longest burn time. The range's powerful variable-speed blower is automatic with 120 CFM. Highly advanced system.
Longest time usage: The 270-pound hopper capacity provides up to 4 days between refuelling and features a self-draining fire pot that extends the time between cleanings.
Eco-friendly: The product of US Stove is certified for clean burning performance, much more heat output than the competition. The pellet stove is also EPA certified for best class fuel economy. This range is approved for the mobile home with the included fresh air intake.
Simply awesome: With US Stove 5660 Bay Pellet front stove you will experience affordability, style, and practicality. Its space-saving form and attractive design will make it an ideal addition to any room, and with the new Smart Controller, heating your home efficiently on your terms has never been easier.
Benefits:
It is an ecological, renewable and low CO2 emissions heating system
They offer a high level of thermal comfort
High calorific value and high performance
Very economical fuel that is pellets comparable to other stoves
They work automatically and require little maintenance
They are programmable even remotely via Wifi
Before any anomaly, they stop their operation
Conclusion: US Stove 5660 Bay Pellet front stove makes it easy to warm any space because keeping warm shouldn't take a lot of work. Reinvent the way you heat your home with this Pellet stove and new digital controller. The digital controller allows you to choose manual, thermostat and Weekly operational modes to heat your home on your schedule.
The furnace is designed to be easy to clean; there are no tubes, corrugations or hidden chambers. This stove uses a natural draft that will take over and ramp the stove up to temperature. Adjustments are simple by opening and closing the fresh air intakes on the front of the stove.
The window allows you to see the flame travelling through the body of the stove. This stove offers tiny spaces at the back and on the sides, making it easy to install. Best of all, since it uses no electricity, this range is the perfect heat source for areas that are prone to blackouts or off-grid installations. Simply this is something you have ever dreamed of.
FAQs:
How much safe is the US Stove 5660 Bay Pellet front stove for overnight?
Pellet stove is extraordinary safe to use overnight or even if you are outlet it is burning. This thing will never get fire into your house.
How many pellets does US Stove 5660 Bay Pellet front stove consume?
Almost 2 to 3 tons of pellets are more than enough for the season that is one bag for full-day may provide full warm weather.
Does US Stove 5660 Bay Pellet front stove, use batteries to be operated?
No batteries are needed for its performance.
How to clean the US Stove 5660 Bay Pellet front stove?
Pellet stove needs to be maintained by cleaning the chamber and ash pan by throwing away the as and scraping the burnt pot calmly.
Does US Stove 5660 Bay Pellet front stove work efficiently?
It is a highly advanced pellet with installed technologies like advanced energy and automatic combustion control.
www.amazon.com/US-Stove-5660-Front-Pellet/dp/B005PQEBJA/