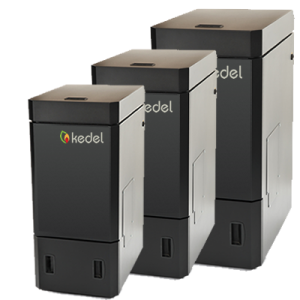 Interphase Energy LLC and Kedel are pleased to announce their partnership with Rockport Mechanical Inc. (RMI) for the sale and installation of Kedel pellet boilers for central heating.
By partnering with Interphase, RMI is now able to offer the Mid-Coast community affordable, stand-alone pellet boilers as an alternative to expensive to operate fossil fuel-based heating systems.
All Kedel boilers come with an impressive list of standard features: self-cleaning, high-efficiency heat exchanger, web-enabled touch screen controller, digitally controlled combustion system, and a 7-year warranty.
The cost of installing a Kedel is between $2,000-$5,000 more than installing a comparable fossil fuel boiler and boasts 40-50% savings on heating bills. For even more energy savings, Kedel boilers can be purchased through the Efficiency Maine PACE or PowerSaver loan programs which combine heating system upgrades with efficiency updates. Kedel boilers are modular and can be configured in different ways depending on the budget, space, and heating requirements of the owner. System installations start at $8,700.
RMI technicians will be able to monitor and adjust web-enabled Kedel boilers remotely ensuring proper performance without a service call. Kedel's online monitoring system will also alert RMI and the owner of potential problems and indicate when it is time to fill the pellet hopper. Pellet hoppers can be filled manually or automatically depending on the owner's needs.
The partnership between Interphase Energy and RMI is not only helping home and business owners save money on their heating bills. It is also contributing to the revitalization of our local economy by installing central heating systems that run on locally produced and distributed carbon-neutral fuel; wood pellets.